The AI-Driven IPM and Yield Forecasting Platform for the modern grower
AI-Driven solution for greenhouses to maximize yields and minimize IPM costs.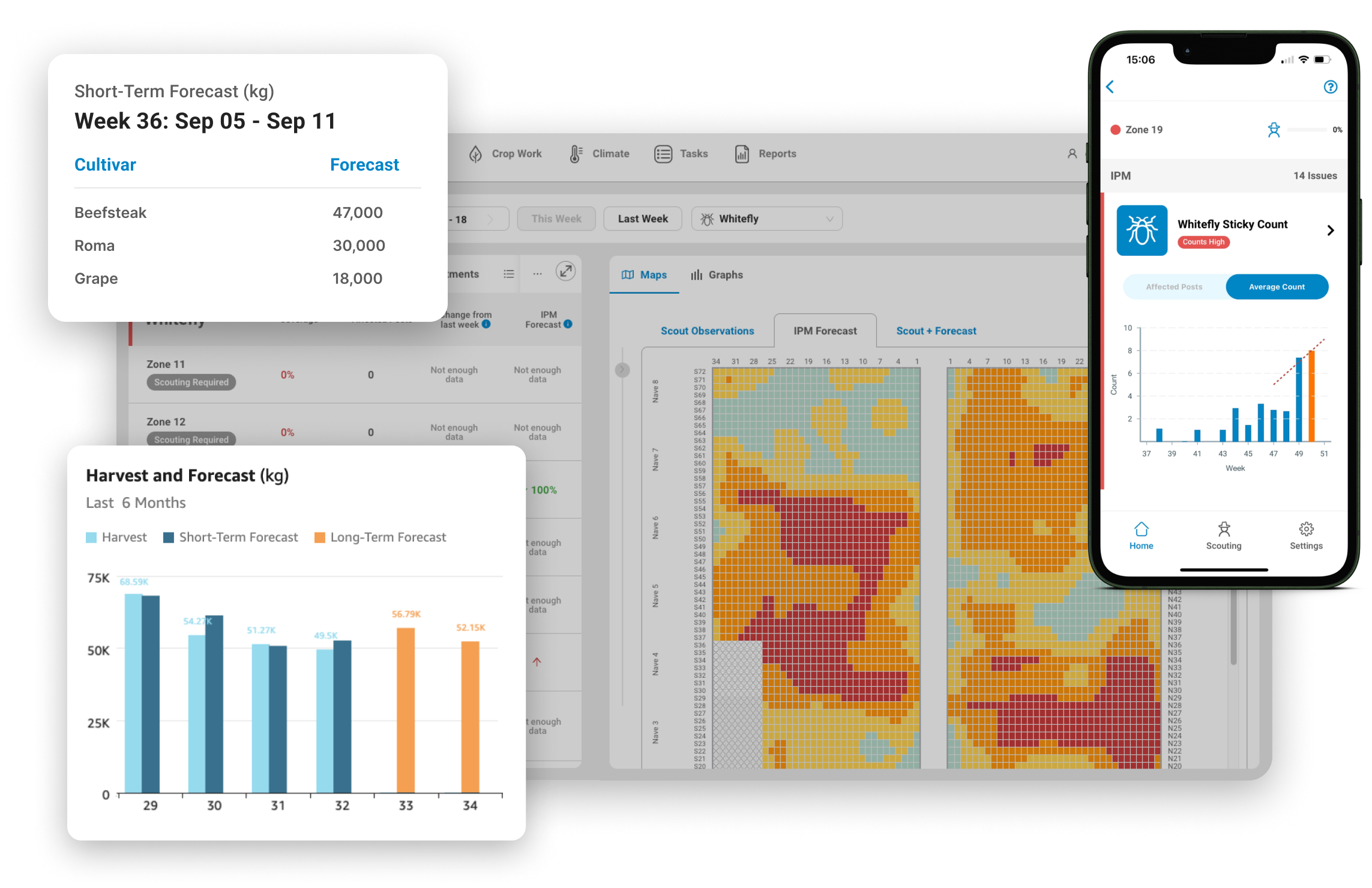 Digitize your Scouting
Seamlessly digitize your entire scouting process.

Significantly increase scouting coverage without any extra effort.

Capture all greenhouse data on the cloud and view it easily on any device at any time.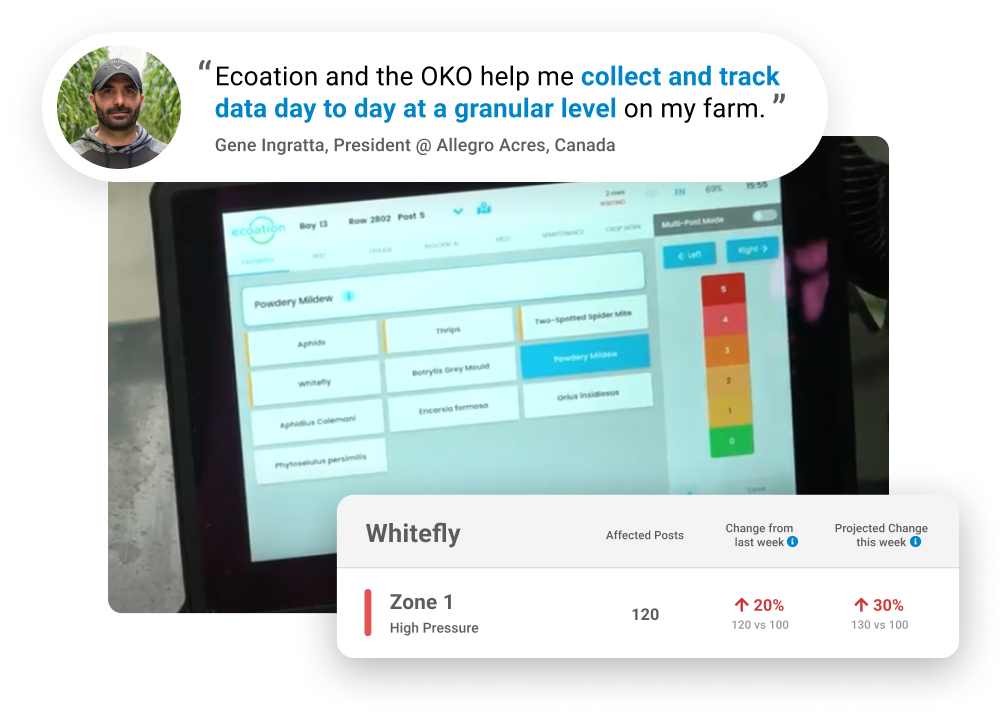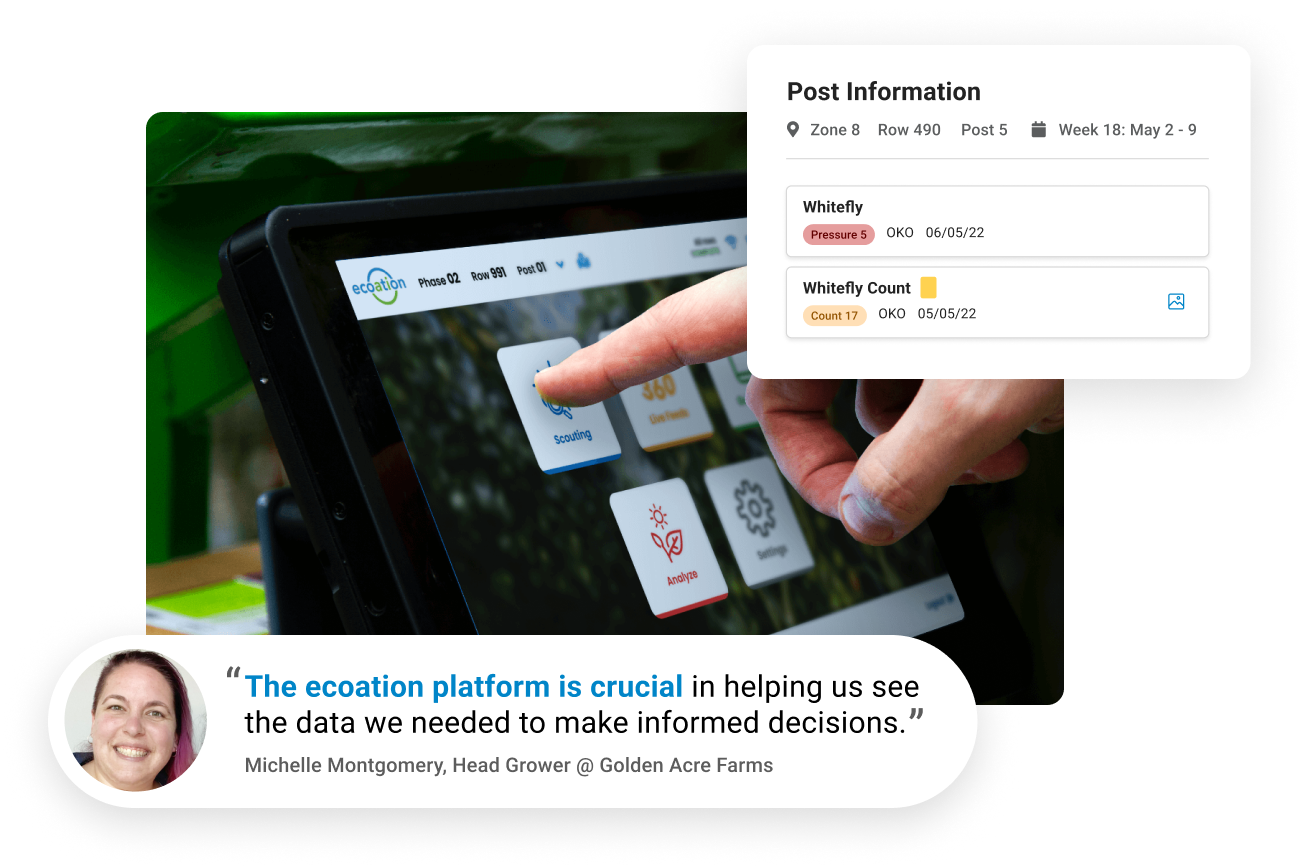 IPM that simply Works
Easily implement an IPM program to reduce reliance on harmful pesticides

Improve time-to-action on pest and disease control.

Track IPM hot spots from one season to the next to systematically improve production.
Leverage your Forecasts
Get a complete picture of your Greenhouse through AI driven data analysis.

Easily generate accurate estimates for fruit count, weight and volume estimates.

Negotiate optimum prices for fruits based on accurate forecasts to maximize revenue.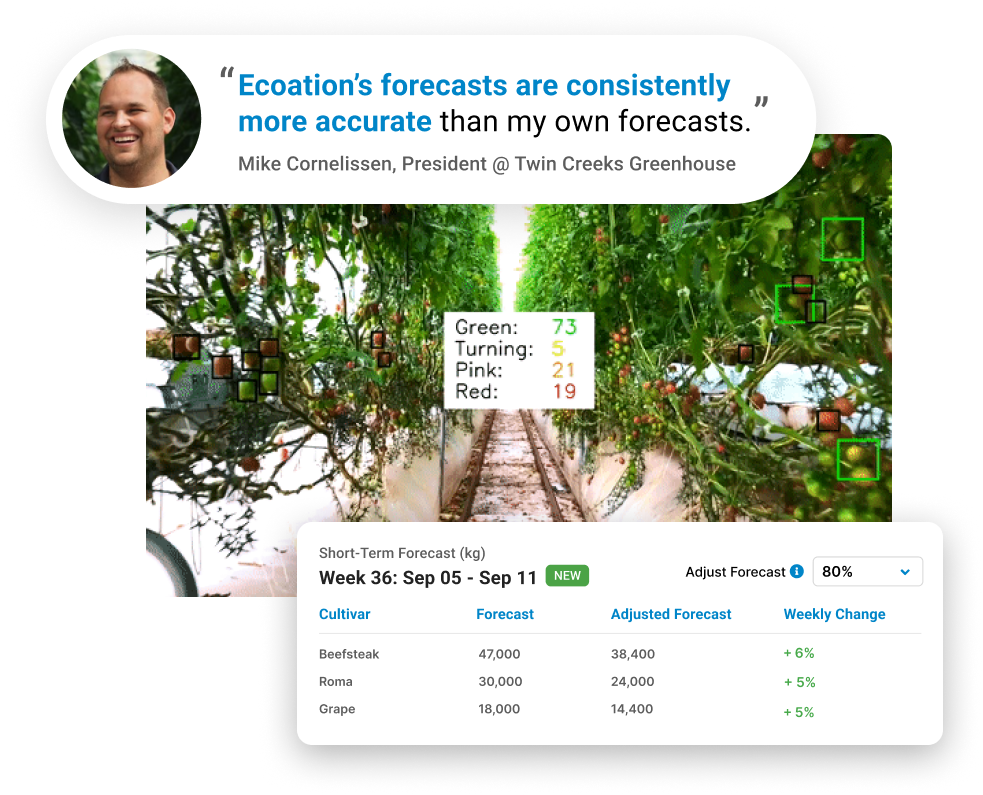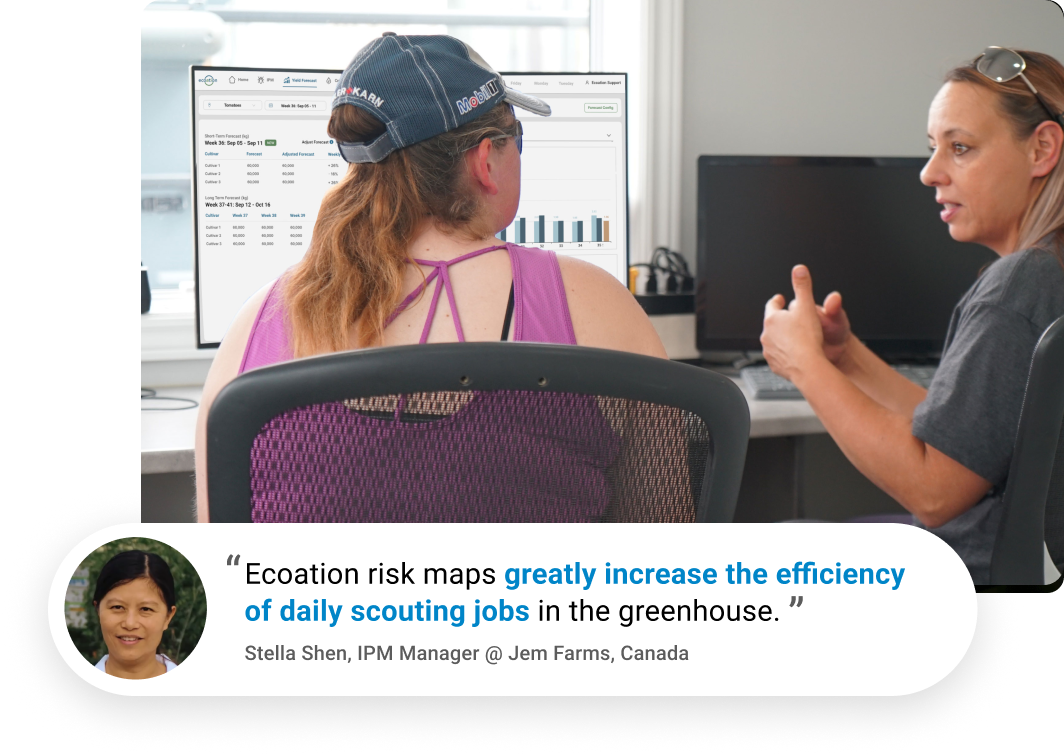 Master the skills of data-driven growing
Analyze your operations and drive excellence with the power of data.

Easily answer questions on treatment overspend and yield impact from pest outbreaks.

Hone in the most effective biological control agent and the ideal application rates for your crop.
Human + Machine = Success
Easily capture multiple data points through robot mounted cameras and sensors.

Receive customized AI-driven guidance through our experienced horticulturists.

Improve your success rate each and every season with our team of experts at your side.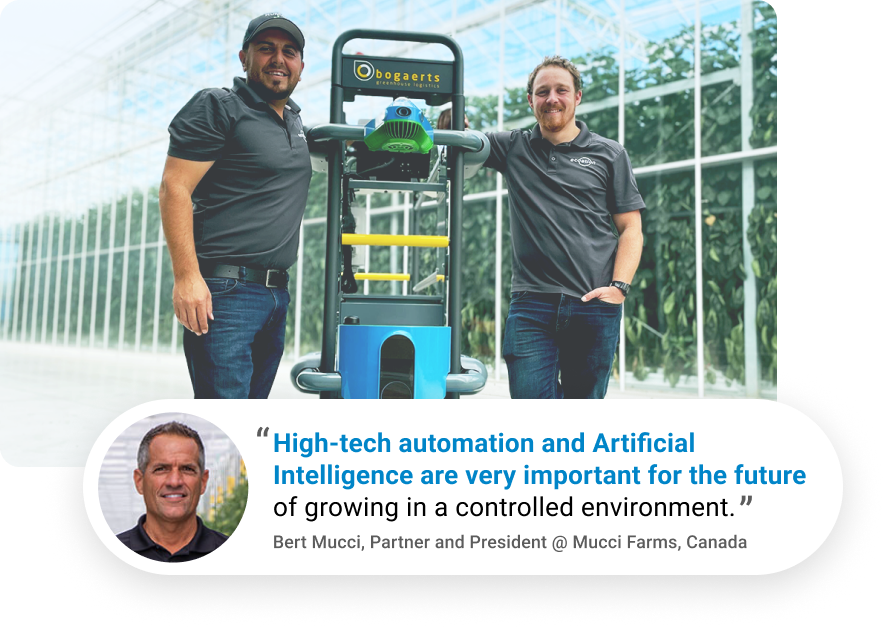 Under the Hood of OKO
OKO is the first industrial-grade greenhouse data harvesting system. OKO was designed to help farmers make better decisions when it comes to their crops and their greenhouse operations.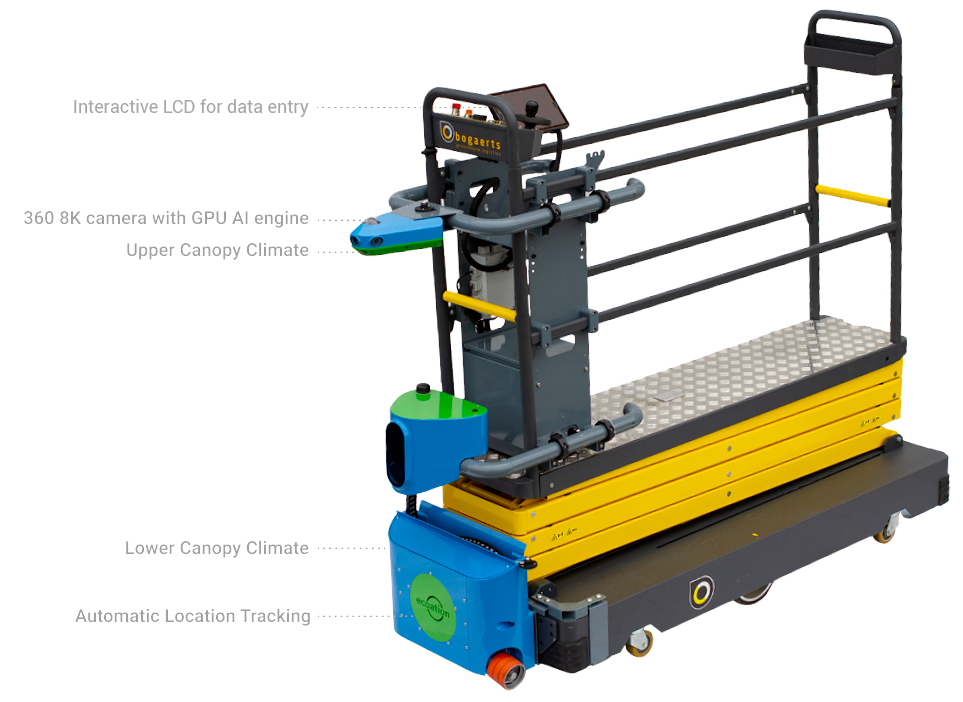 OKO is an industrial-grade robot built for greenhouses. OKO is equipped with environment sensors, and a 360° 8K machine vision camera that is used to collect, analyze, and live process data from rows of plants. A large LCD screen with an intuitive interface, supported by multiple languages, is used to capture data observed by the scout on the OKO. The robot is used by Greenhouse scouts to help perform IPM and collect Yield Forecasting data. The OKO processes the data with its supercomputer and uploads results to a cloud platform to enable growers and managers to get real-time data and analytics from their plants.
What is included in the ecoation OKO plan?
All the OKO plans include at least one OKO machine for your Greenhouse. The plan also includes priority service and support from our team, including advice from our Agronomist Experts, Service Field Technicians and access to our Data Science Team. Our goal is to get you results – we only succeed when you do!
How is data captured and uploaded?
OKOs are equipped with numerous sensors and cameras to capture multiple data points, including 360° walk-throughs, temperature, CO2 and humidity levels. If the yield forecasting module is enabled, the data is processed by the on-device super computer and GPU. An LCD screen is used to capture additional notes from the scout, which is then aggregated with all the previously collected data. All data is collected automatically as the user drives the platform and interacts with the LCD. The captured data is uploaded via the Greenhouse WiFi to our cloud servers for enhanced processing and data archiving.
Who owns the Greenhouse Data collected by OKO?
You own all of the data collected and stored by OKO and ecoation from your Greenhouse. You have complete control and access to the collected data through our interface. We only store the data for the purposes that have been agreed upon as part of our Digitized Scouting, Integrated Pest Management and Yield Forecasting program.
What infrastructure is needed to support OKOs?
OKOs are only designed to work in a high-tech Greenhouse. They require a fast, consistent and broadband internet connection with WiFi coverage on the walkway of the greenhouse. OKOs also need pipe rails to move from post to post. If your Greenhouse does not have any of these technologies, then, unfortunately, OKOs are not a good fit.
What type of crops does OKO work with?
The IPM module of OKO can work with any type of crop grown inside a commercial greenhouse. The Yield Forecasting module currently works with Tomatoes and Bell Peppers. If you are interested in other crops, then reach out to our team to discuss your options.
What carts are compatible with OKOs?
OKOs are designed to work with carts that support pipe rails, including Berg BENOMIC Star, Berkvens Control Lift 3000, Bogaerts Qii-Lift H-350 & Z-350, and Metazt M-Service. If you have another cart in service, speak to our customer service team to see if it's supported.
How does automatic location tracking work with OKO?
Using the RFID mapping system, the OKO knows its exact location in the greenhouse, and it maps all the data with the location information automatically. RFID tags are small chips that are read wirelessly by machines – e.g. the chips used in bank cards to make contactless payments. When we configure your farm, we will install RFID tags in your Greenhouse. These tags are automatically read by OKOs to determine their exact location.
What is the OKO LCD used for?
All OKOs are equipped with an LCD that can be used by the Scout to input observations of pests, diseases, and beneficials into the system. The main functions of the LCD are IPM and crop health labelling, a live view of the cameras, and a quick reference to the environmental data. The user should make use of the Ecoation greenhouse management application for a more detailed view of the greenhouse and the data.
What languages are supported?
The OKO supports English. Spanish, French, Dutch and German. Our online documentation is primarily provided in English. We have a multilingual customer service team who are fluent in English, Spanish, and French to provide you with one-on-one support.
What type of OKO pricing plans are there?
OKO plans are completely customizable so they can work perfectly for your particular Greenhouse. The IPM and Yield Forecasting modules are independent and optional. Depending on the size of your Greenhouse, you may qualify to use more than one OKO to save time and increase coverage. Talk to our team to understand which plan suits your Greenhouse the best.
IPM & Yield Forecasting Use case
"ecoation and the OKO help me collect and track data day to day at a granular level on my farm. Agriculture is changing fast and ecoation helps me keep up!"
"ecoation enhances our abilities by giving us more higher resolution data to make better real-time decisions."
"The OKO is very user friendly and easy to operate which has made integration with our pepper forecasts smooth."