Yield Forecasting Software Platform
The ecoation yield forecasting software platform makes it easy to assess your crops and estimate your yield. This helps growers secure the best prices at the market.

With this platform, you can forecast yields with precision, so you know how much product to harvest and when.

12.4%Improved accuracy



40xMore fruit count per hour



50%Labour planning improvements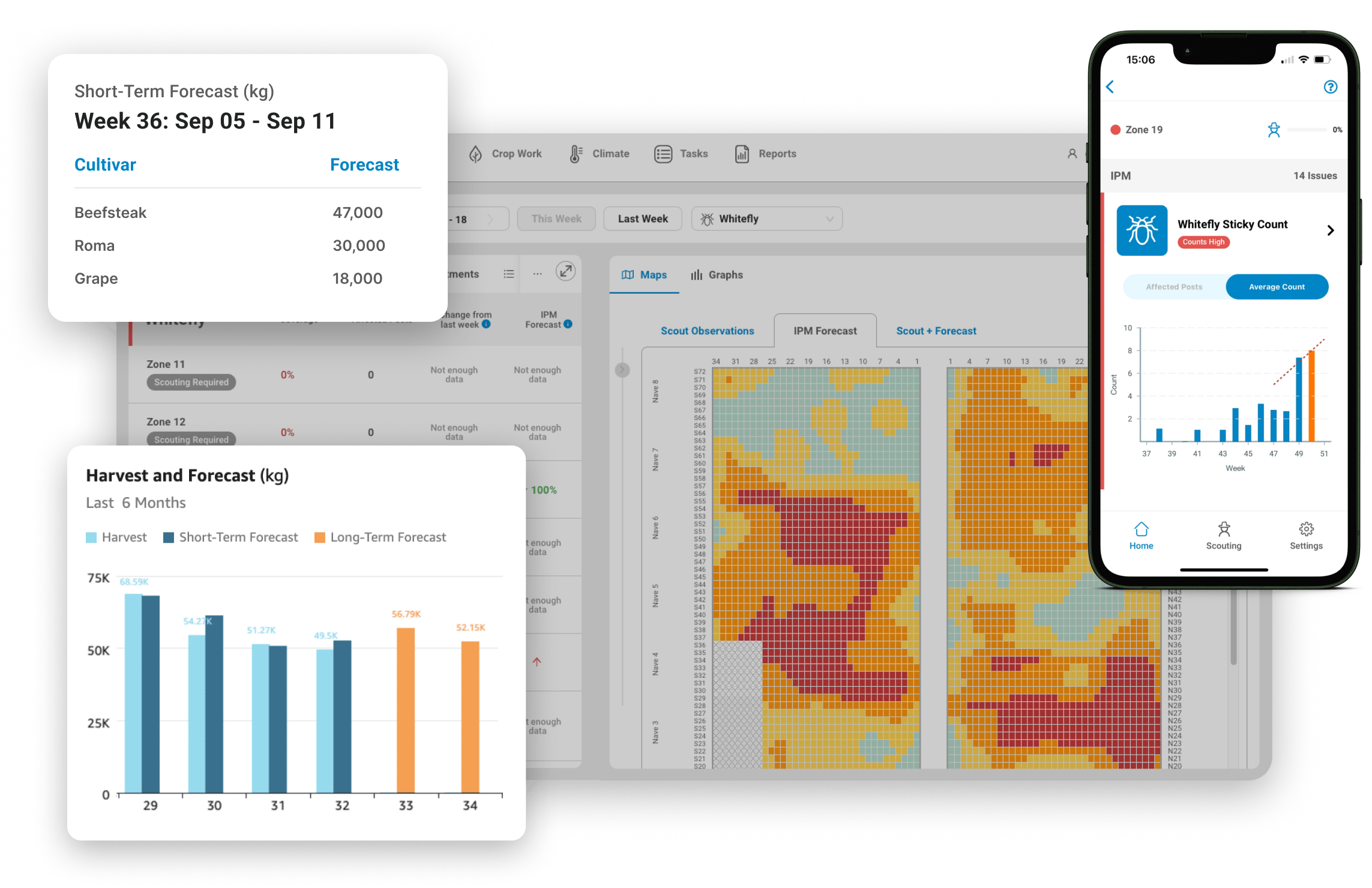 Get Started
Implement the Yield Forecasting software platform in your greenhouse today.
Make more money with less guesswork
Get accurate short-term forecasts to ensure you can fulfil your retailer obligations and get the best prices for your produce.

Fulfill your Contracts
Get an accurate short-term forecast to ensure you can fulfil your retailer obligations.

Manage Labor more Effectively
Schedule labor and logistics to meet your harvest demand.

Secure better Prices
Secure better prices for your forecasted production ahead of time, to maximize your income.

Predict Cash Flow
Get visibility into your income and cash flow to help manage the operation.
Forecast All your Yield
Our AI driven software platform provides an accurate yield forecast down to the exact kilogram. You can accurately estimate your harvest week over week. This eliminates any guess work from your calculations and allows you to maximize your revenue by meeting the exact market demand.
Get Started
Implement the Yield Forecasting software platform in your greenhouse today.
AI for Forecasting
Yield Forecasting with OKO
OKO is the first industrial-grade greenhouse data harvesting system. It's used by successful commercial Greenhouses all over the world to digitize scouting, perform valuable IPM functions as well as collect and store data used in highly accurate yield forecasting of harvests.
Our software program is significantly enhanced with the assistance of OKO robots, by offering increased precision, efficiency, and effectiveness.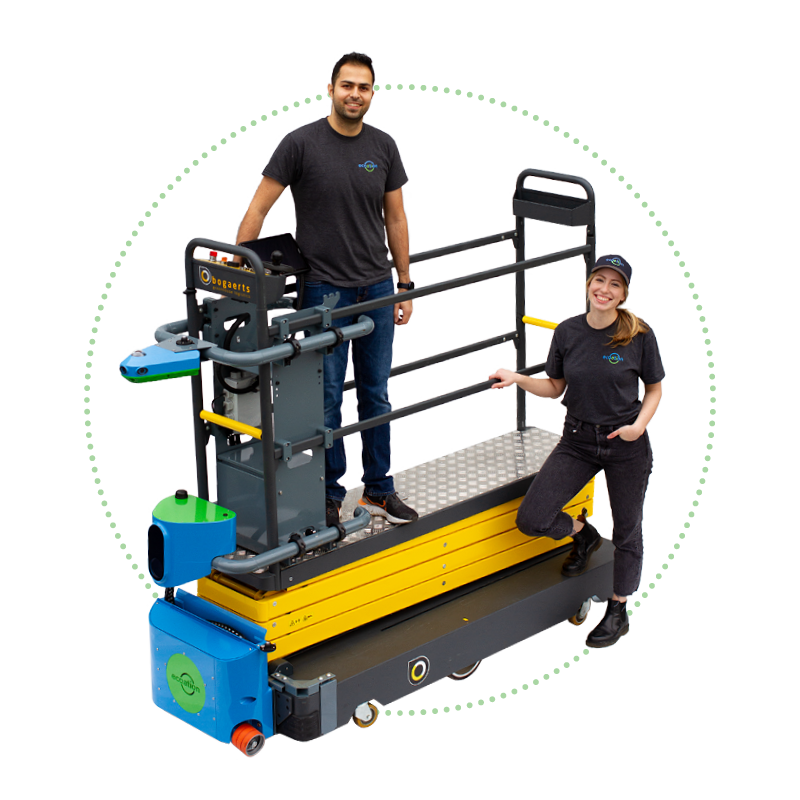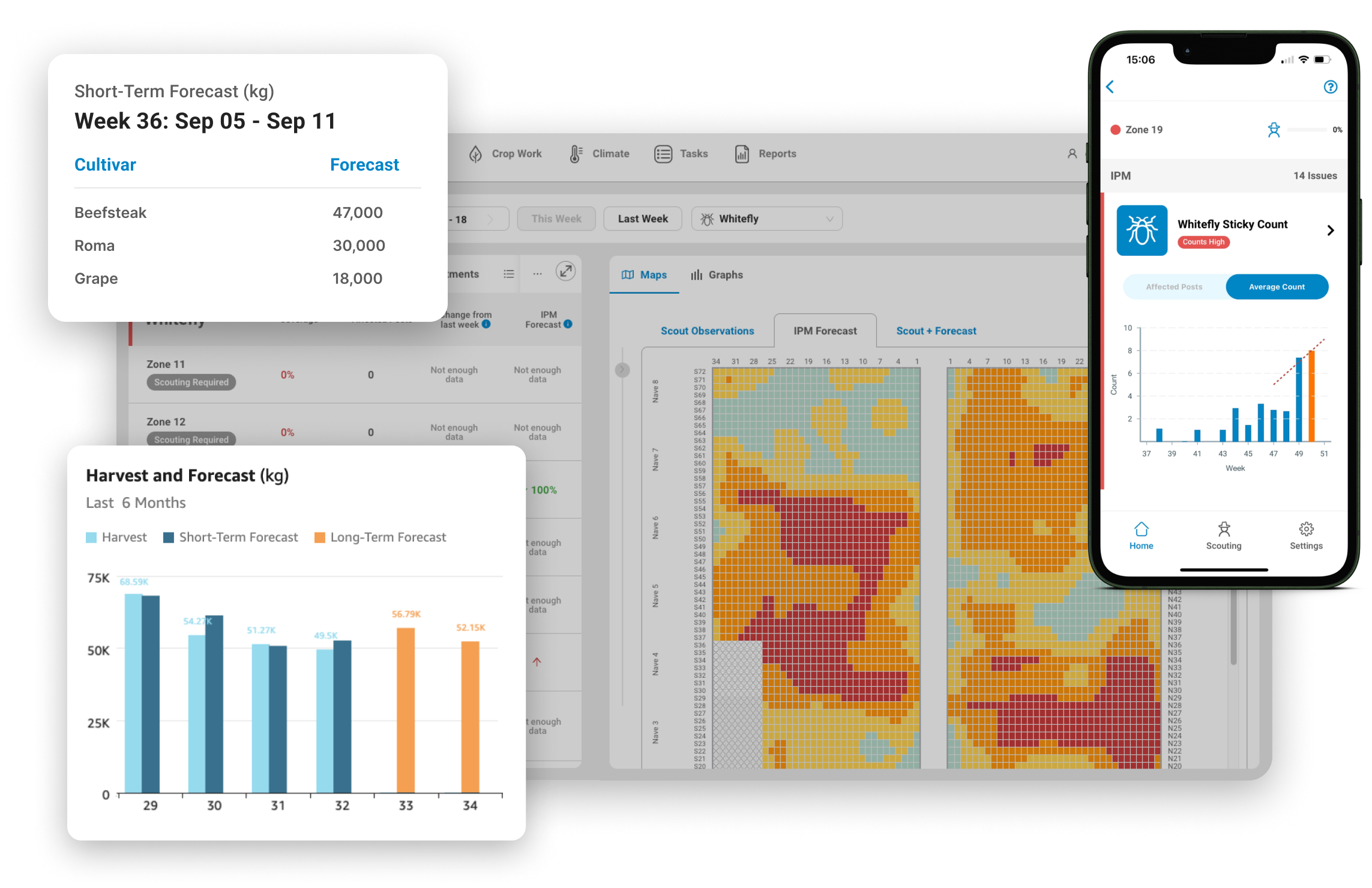 Web + Mobile App
Greenhouse IPM data at your Finger tips
An easy to use, highly intuitive interface lets Growers, Scouts and Owners seamlessly get a complete picture of the Greenhouse through AI driven IPM Software analysis.
The IPM scouting software solution allows for detailed views on pest pressure throughout the commercial greenhouse. The IPM scouting solution is available through the web or via the mobile app, allowing complete freedom to how and where you access the IPM data.
The Virtual walk where you see Everything
Our platform provides a comprehensive virtual walk of the Greenhouse that meticulously photographs the growing area, post by post. The detailed photographs are analyzed by AI to give you a comprehensive birds eye-view of your plant's health, disease pressure and yield Forecast.
"ecoation and the OKO help me collect and track data day to day at a granular level on my farm. Agriculture is changing fast and ecoation helps me keep up!"
"ecoation enhances our abilities by giving us more higher resolution data to make better real-time decisions."
"The OKO is very user friendly and easy to operate which has made integration with our pepper forecasts smooth."
How Twin Creeks Greenhouses yield forecasting became more accurate.


"With better predictions, I can secure better prices for my peppers and ensure I am being efficient in my operations."
Mike Cornelissen, President

Twin Creeks Greenhouse

Get Started
Implement the Yield Forecasting software platform in your greenhouse today.
Talk to our Yield Forecasting Experts
Our team is available to chat about IPM, Yield Forecasting and software technology that fits your needs.
What is Yield Forecasting?
Yield forecasting plays a crucial role in the success of commercial greenhouses. It refers to the process of predicting the expected crop yield or production output in a greenhouse environment. By estimating the yield, greenhouse operators can make informed decisions regarding crop management, resource allocation, and financial planning. This forecasting technique combines historical data, current conditions, and advanced analytical tools to provide accurate projections.
Yield forecasting offers several benefits for commercial greenhouse operations. Firstly, it enables growers to optimize resource allocation. It also assists in crop planning and decision-making. Growers can anticipate the market demand and plan their planting schedules accordingly. This enables them to align their greenhouse operations with market trends, reduce losses due to oversupply or undersupply, and maximize their profits.
In conclusion, yield forecasting is a crucial tool for commercial greenhouses to predict and plan their crop production. This enables them to optimize resource allocation, make informed decisions, and manage risks effectively. With the help of yield forecasting, commercial greenhouses can enhance their productivity, profitability, and sustainability in a highly competitive market.
What crops can we forecast?
The IPM module of OKO can work with any type of crop grown inside a commercial greenhouse. The Yield Forecasting module currently works with Tomatoes and Bell Peppers. If you are interested in other crops please reach out to our team to discuss your options.
How does Yield Forecasting work with OKO?
OKO provides an accurate view of the harvest, which can be used for sales forecasting and decision-making. When driven down a row of plants, OKO automatically captures and analyzes images of the greenhouse. The data automatically gets processed by our on-device supercomputer and GPU. The result is highly accurate and available in real-time to decision-makers. Forecasting data can be used to plan and optimize labour, forecast sales, and secure better prices in the market.
How is data captured and transferred?
An onboard 360° 8K machine vision camera on the OKO, combined with the yield forecasting AI model running on the machine supercomputer, work together to capture and process yield forecasting data. The results are transmitted to the cloud via the greenhouse's WiFi network, making a fast and stable connection crucial for optimial performance.
Who owns the Greenhouse Data collected by OKO?
You own all of the data collected and stored by OKO and ecoation from your Greenhouse. You have complete control and access to the collected data through our interface. We only store the data for the purposes that have been agreed upon as part of our Digitized Scouting, Integrated Pest Management and Yield Forecasting program.
Why is OKO's AI more useful than traditional forecasting techniques?
OKO's AI is more useful because it samples more plants per acre than traditional techniques, providing farmers with a more accurate forecast. This helps farmers optimize yields, reduce risks, and maximize profits.
What is the accuracy of OKO Forecasting?
OKO's forecasting accuracy has been demonstrated across more than 20 tomato and pepper cultivars, with consistent outperformance or at par with top-grower forecasts. Its use of machine learning algorithms and granular data sources allows for increasingly precise predictions season after season.
How much ROI can I expect from OKO Forecasting?
OKO's forecasting capabilities have been rigorously tested across more than 20 cultivars of tomatoes and green peppers, with minimal deviation between the forecasts and actual harvests. Leveraging machine learning algorithms, OKO's forecasting accuracy improves with time, resulting in increasingly precise results from season to season. Importantly, OKO's AI has consistently outperformed traditional grower forecasts, proving its ability to provide highly granular and accurate predictions for a wide range of greenhouse productions.
Get Started
Implement the Yield Forecasting software platform in your greenhouse today.